Cultivating brand ambassadors from within
United Helpers is a 100+ year old healthcare and human services provider in Canton, NY. Over the last decade they've grown very rapidly and there came a point when the community and staff were not aware of the breadth of their facilities and services. The United Helpers brand had become fragmented. This challenge was true for staff, too: some thought of themselves as United Helpers employees while others identified with the specific facility where they worked.
It was time for a fresh approach. So, United Helpers turned to The Marketing Collaborative to help re-brand the organization and its sub-brands to make the entire family of services clear and simple to all audiences. That included the organization's staff, because the first step in their success would be to inspire their employees—and equip them to be good ambassadors.
Market research leads to a simple, powerful strategy
Through dozens of conversations with consumers and staff, we learned that United Helpers was the best-known brand among the services and locations under the organization's umbrella. At the same time, there was a lack of understanding of the organization's breadth of services and confusion with the United Helpers brand and its sub-brands, such as Mosaic. Confusion existed among both internal and external audiences.
This sparked our "branded house" strategy, in which we developed a nomenclature with United Helpers as the key brand identity supported by descriptors to communicate various services and facilities. The "branded house" provided a foundation of consistent messaging for United Helpers to infuse throughout their marketing communications.
A sturdy foundation provides consistent messaging
The creative approach began with a logo designed to simplify the brand's visual identity and bring clarity to the organization's product offerings. The accompanying tagline, "Always Caring," created an elegant way to extend that brand into a comprehensive campaign to show the public and staff how the organization lives up to that promise every day.
And with a cohesive brand in place, The Marketing Collaborative went to work developing tactical executions to bring it to life for United Helpers' key audiences.
The first audience to receive the message: United Helpers staff.
By inspiring them to embrace the new brand system, we cultivated ambassadors who would be vital to the success of the public-facing campaign. It was critical to have staff on board. Our internal communications strategy included:
Launch events at the local university to host hundreds of staff.
Event invitations shared via email, direct mail, and posters to entice staff to attend.
A brand book to instill staff pride and provide them with language to communicate consistently.
A successful launch
The new brand strategy and logo were presented to the board and staff and were well received. The CEO identified with the new identity and brand language so much, he read aloud from the brand book during his presentation.
Hundreds of staff attended the launch events and applauded when the logo was revealed. They were highly excited about the new brand identity—which meant a name change for many who were working in senior living and behavioral health facilities. All staff received a copy of the brand book (still given to new hires to this day).
"The new brand helps me to know what United Helpers is (does) and what services are offered at each location."
"I like the new logo. It's warm and makes me feel like you care."
"I always know when a UH ad comes on the radio or television. I already recognize the music and the announcer's voice."
"United Helpers knew that we needed to create an identity and brand voice that was as unique as we are. Thanks to Cathy and her team, that's exactly what we accomplished. From discovery to brand launch, Cathy and Glenn Clark of Crafting a Brand guided us on a journey that involved a complete redesign of all of our marketing materials – logos, TV and radio commercials, brochures, print ads, and more. Today, the fruits of our labor are being realized and the United Helper's team is grateful to Cathy, Glenn, and the rest of the Marketing Collaborative team for showing us the way."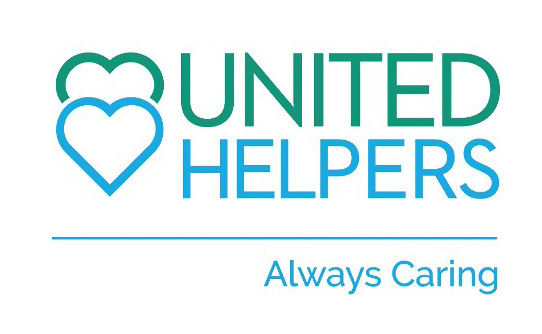 The new United Helpers logo established a simple, consistent icon and color palette while creating room where sub-brands could live under the same roof.
The new United Helpers logo established a simple, consistent icon and color palette while creating room where sub-brands could live under the same roof.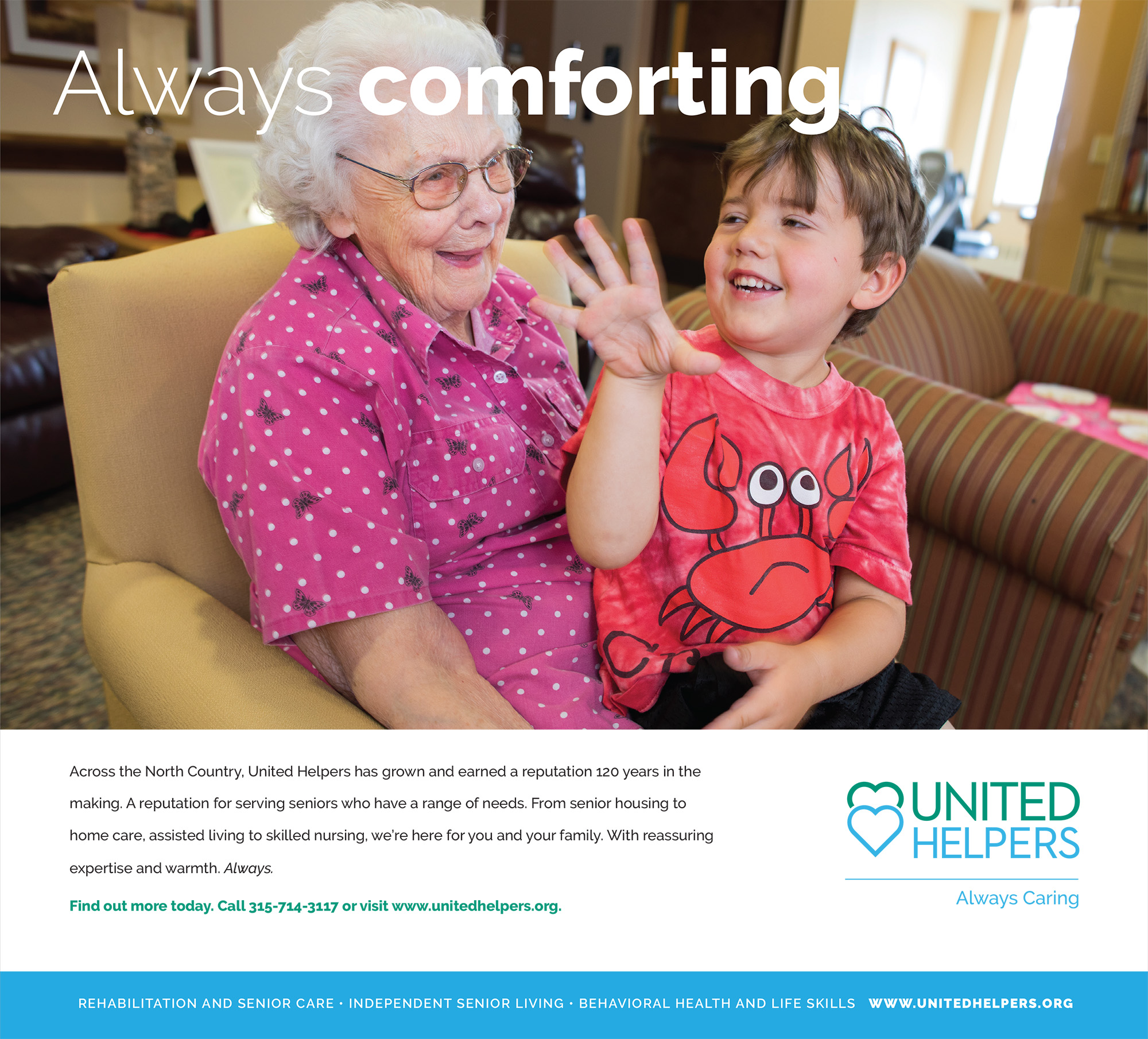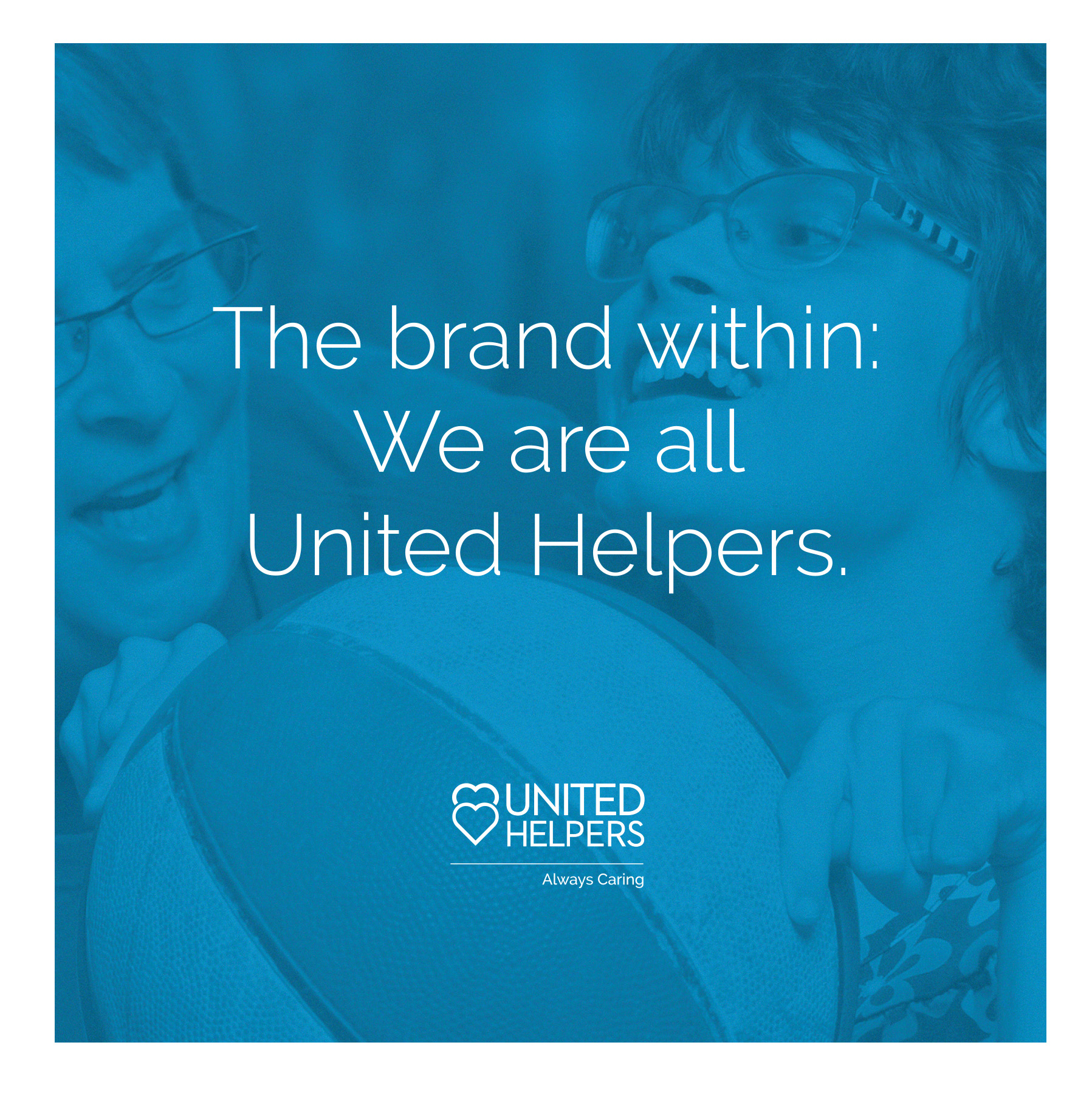 The United Helpers brand book was a concise, graphic storybook that shared the ideals of the brand with employees.